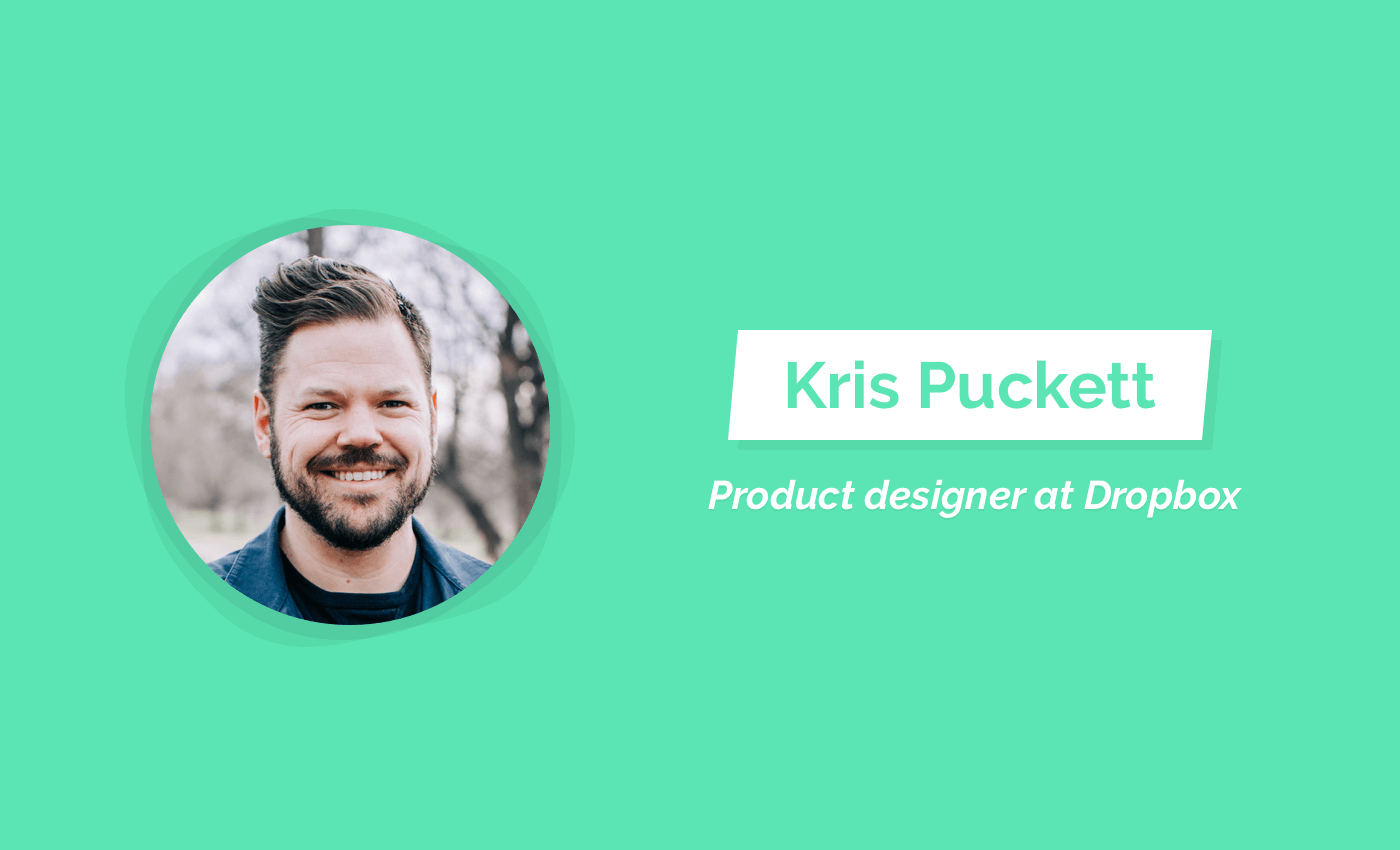 This interview is part of the Working Better series.
The series aims to show how people from different fields work, how they balance life and work and how they take care of their wellbeing.
Can you tell us a little bit about yourself, what you do, your background, and how you got to where you are today?
Hey! I'm Kris, a senior product designer at Dropbox. I actually received my Masters of Divinity at a seminary and was going to be a pastor.
Life took different directions.
8 years ago I needed a job, career, you know…money. I was creative and good with technology, I had some experience with building websites, and started freelancing. That first client snowballed into larger and larger projects all the way to working on a massive project for Facebook on misinformation issues.
It was a lot of trial and error to find my path in life.
On a typical week, where do you usually work from?
I spend 90% of my time in my home office. I've been remote for 5 years now and I love my space so much. I'm lucky to have huge windows, space, and a comfortable place to work.
The other 10% is spent at a local coffee shop, usually just for an hour in the mornings after daycare drop-off. Before the pandemic, the split was closer to 70/30; I miss that time in coffee shops.
What are the things you do to help you start the day in the best possible way?
The best possible way for me to start the day is to immediately get dressed and make coffee. The best days start with leaving the house: a car ride to daycare, for a walk, or to the coffee shop. If the weather is nice, I might have a quick stop at the driving range to hit a few golf balls.
The act of quickly going helps me focus on the day. If I have a morning where I just sit around, I guarantee that by the end of the day, I'll wish I had done more. Idle time in the morning almost always ends up with me "wasting" it on scrolling, slowly moving around the house, and regretting I didn't leave.
Post morning movement; I need 30-45 mins of focused planning time. I put on some music and open my notebook and todo app to plan what I need to accomplish.
Can you take us through a typical workday?
I'm an hour ahead of a lot of my colleagues so I typically have a morning buffer before meetings start. That's when I usually get to journal and plan the day, or take care of some deep work tasks.
I typically start work around 8:45am and I'm trying to do a better job establishing more predictable rhythms to the day. Thus far, I'm in meetings from 10:30am to 3pm with intermittent deep work in between. A few days during the week, I'll try and get a swim or workout in around lunch time. I rarely take a true "lunch" these days.
My day usually ends around 4:30pm so I can drive to daycare and pick up our toddler or take the dog for a walk.
How do you take care of your wellbeing while at work?
Yeah… I'm not the best person to ask this question. I'm not always great at self-care during work. Ideally, I'd have a fairly rigid block of time for deep work, a rigid block of time for working out, and I'd end the day with some reflection and chill time. Before my wife started working from home, I'd forget to eat throughout the day: which led to a lot of afternoon hunger.
Some weeks are better than others, however. In those weeks, I have solid rhythms with self-care: meditation, reading, journaling, and working out are the essentials for my self-care.
Once a month I have the unreal privilege and luxury of floating in a sensory deprivation tank. It's a forced reset on my brain and soul.
What are the things you do that help you when you're stuck, feel uninspired or need some motivation?
I put on some music, ideally jazz or post-rock, something rhythmic and up-tempo. If I can, I try and gut-check why I'm feeling stuck. Is it fear, exhaustion, dehydration, hunger? Is it something I can fix easily?
Next, I write a quick "ideal" block of time and what I would do during that time. I start small with an easy win, then move on. For example, last week I was struggling to finish some key work. I wrote out on a notecard what the next 2 hours should look like; in 30 minute blocks. I was able to knock out everything I needed, I just needed to visualize what actions I should take.
What do your typical after-work hours look like?
Chasing an amazing little human around the house, laughing, being goofy, then nighttime routines: making her dinner with my wife, bath, bedtime, etc. Once she's in bed, we eat and have a few hours of downtime.
Pandemic parenthood has left a lot to be desired about how I use my evenings. I'm usually beyond exhausted, mentally, from work and parenting. Sadly, most nights involve a lot of "zone out time" on the phones. Before parenthood, our nights were a lot more full of activity; going out, reading, social time, etc.
I'd love to tell you I'm superhuman and do so much after hours. In reality, the best nights are the ones with good dinner, good conversation with my wife, then time to read.
What do you do to maintain a healthy work-life balance?
Finding balance is an ongoing process; a constant negotiation of needs. Thankfully, I'm now at a company that is very vocal and supportive on maintaining balance. I was told just last week to make sure I'm not working after hours. It's a pleasant surprise and change from previous roles.
It's increasingly rare that I need to work after hours. I try and shut down all apps on the computer and put it away. I learned early on in remote work years ago the importance of creating physical boundaries from work.
Shut down the machine and shut the office door.
In general, over the course of the year, what else do you do to take care of your wellbeing?
I rediscovered how much I enjoy playing golf. Is that the most new dad thing to say? I better watch out, pretty soon I'll rock dad jeans and white new balance sneakers…
My favorite way to get movement in life is through swimming. With the pools shut down until recently, I had to find other ways to get exercise. Golf provided a great way to socialize with a few friends, walk a ton outside, and challenge my mind.
Like I mentioned above, I'm a huge advocate for float tanks, it's such a powerful way for me to restore and recharge.
I'm thankful, through counseling, I've found the core actions I need to take in order to care for myself: journaling, reading, working out, and meditation/floating. My biggest challenge is doing those activities daily/weekly. It feels so hard, at times, to do the things I know I need but don't want to do in the moment.
Can you share any personal learnings when it comes to your wellbeing and productivity?
Everyone is different and defines wellbeing differently, but everyone needs self-care. You can't be an amazing leader, creative, (insert whatever it is you do) without caring for yourself first. When I'm achieving healthy rhythms with self-care, I'm a better partner, father, designer, and leader. When I'm unhealthy, I notice those shadows in all of us come out.
I'm sure it's obvious: the healthier I am physically and mentally the more productive I am. However, the end goal of self-care shouldn't be to improve output, as if I'm some machine needing tuning to achieve more. The end goal of self-care is, well, to care for one's self so that your family, community, and the world at large gets the healthiest version of you.
In general, what had the biggest impact on your wellbeing?
Counseling/therapy has had the largest impact, though I realize what a gift it is to have that option. Outside of therapy, I'd say journaling. It's free, you only need a writing instrument and paper. It's a wildly open space to be honest, to dream, plan, vent, and learn about yourself.
Which advice would you give to someone in your field when it comes to wellbeing and productivity?
There is tension here: wellbeing and productivity don't always go hand in hand, at least not in a healthy way.
Is self-care/wellbeing just another tool to improve output? Is that the main goal of humanity: to produce endlessly and efficiently?
Not that there is anything wrong with being productive, but I don't believe it's the end goal for us as humans.
Focusing on wellbeing will certainly improve productivity, even in unexpected ways.
My advice for any of us in the creative fields is to reject the idea that we are defined about our output. Self-care not only recharges us, which can help us with our work, but it can give the needed perspective about what matters. We are not machines, not cogs, and we are meant for more than just our outputs.
What is your favorite moment of the day?
There are two: seeing my daughter in the morning and her smile. The end of the day, playing and goofing around with her. I never knew how life-giving her laugh could be. I'd do just about anything to make that little monkey laugh.
What are your interests, hobbies or side projects you love to spend your time on?
When I have time: golf, reading, swimming/working out. I'm a semi-retired co-host of a design event, and I'm terrible with side projects.
Any favorite books or podcasts you would recommend?
"Four Thousand Weeks: Time Management for Mortals" by Oliver Burkeman is amazing. I didn't love some of the nihilistic themes, but overall it was a really eye opening work on how we interact with time.
"Essentialism" by Greg McKeown
"Velvet Elvis" by Rob Bell
Where can someone find or follow you?
@krispuckett on twitter

A big thank you to Kris for this interview!