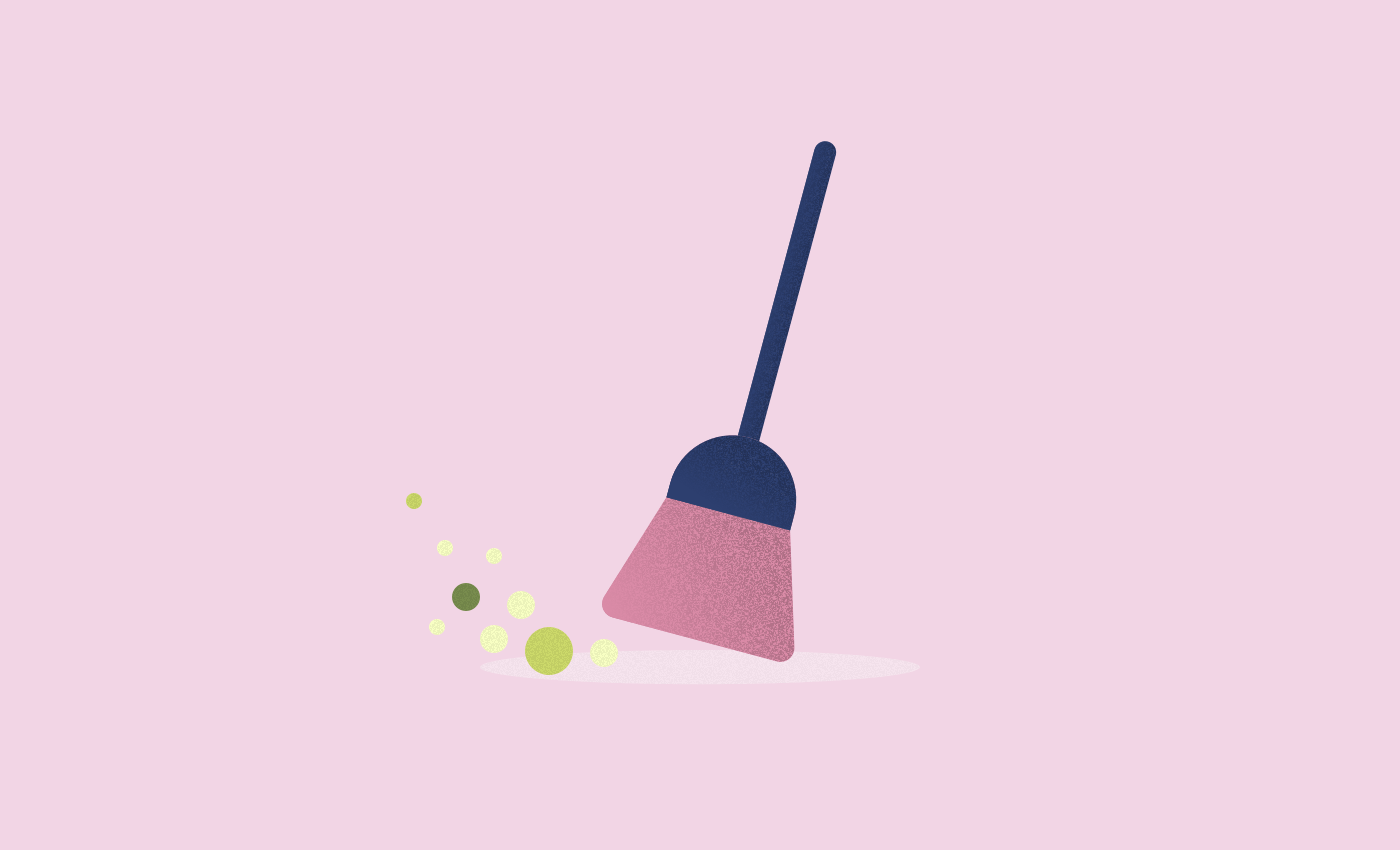 It's time for some Spring Cleaning. Mostly related to cleaning the house during spring, this practice is definitely applicable to all sorts of aspects in our lives. It's a good occasion to revise some things and to declutter them.
Out of clutter, find simplicity.
— Albert Einstein
Constantly having that feeling of anxiety about the number in your inbox that goes up, or having to work on a messy workplace and with an even more unorganised desktop is frustrating and draining your energy.
Neuroscientists at Princeton University confirm that visual clutter is influencing negatively our ability to focus. We are often completely overwhelmed by just looking at all the mess around us, still we're unable to just throw everything away.
Clutter is happening for a lot of reasons. We often relate a physical item with an emotional memory and this makes it hard to get rid of it. With digital stuff it's mostly about not having the time or not dedicating enough time to organise stuff. A lot of things just accumulate and become actually redundant after a while.

Let's take a look at what you can do in order to declutter some of those things.


1. Email
Clear out your Inbox. Finally deal with those emails that have been sitting in your inbox for too long. Sort them, reply if necessary or just delete if no more relevant. Maybe it is something that has been long resolved or an issue that is not even relevant anymore.
Also, follow up on things you haven't heard back in a while. It's a great feeling to throw back the ball because it frees up your mind.
2. Unsubscribe from Newsletters
Don't remember when you subscribed to that newsletter? Use a tool that helps you to unsubscribe to all the unwanted emails or simply search in your inbox the term "unsubscribe" and it will show you loads of newsletters you can easily opt out from.
3. Twitter
Clear out your timeline and unfollow the people which haven't posted in a long time or whose contribution you don't enjoy. Sometimes you find yourself following people you don't even remember who they are or why you followed them in the first place.
4. Facebook
Check all your upcoming Facebook events and make sure they are still relevant for you. Delete the ones that are not anymore of your interest and the ones you can't go to. This way you won't get anymore bothered with irrelevant notifications and reminders.
5. LinkedIn
Clear out your pending invitations, either accept or ignore them. Also clean up the message inbox. It will give you better focus once you need to do business.
6. Pocket
Another classic: adding articles over articles to your Pocket. Clear out the articles you don't read anymore. You'll have less, yet more relevant content to read.
7. Subscriptions
Make an overview of all the services you're paying for on a monthly basis and revise them. Do you still need all of them or can you get rid of a few?
8. Desktop
Cluttered Desktop? Here's the fast solution: Create a folder on the Desktop called "to sort" and put all the files in that folder. Done.
If you have already adopted this solution and now the "to sort" folder is full and messy, then carefully clear and sort out all those files in the folder.
9. Your Phone
How many apps do you actually have on your screen that you don't even use? Delete the ones you don't need, and order the ones you want to keep in terms of utility and frequency of use. You can use folders to put similar apps or apps from the same category together. Remember that even if you never use some apps, they are probably still connecting to the Internet, sending you notifications and using up your precious battery.
10. Desk
Clean your workplace, throw away the papers you don't need, and file the others in the right place. Being welcomed by a chaotic desk first thing in the morning is neither helping your motivation nor your productivity.
11. To-Do List
Look at the things you have had forever on your list and that you have been rescheduling over and over again. Think if the items on the list are still relevant, then deal with them, delegate them or delete them.
12. Free your Mind
With a clear mind you can be much more productive. Meditation is a good way to deal with stress and to prepare your mind for the day ahead. Also keeping a journal, where you can write down everything that keeps your mind busy, can do wonders.
13. Offline Tools
Let's have a look at the physical stuff you carry to work. Go through your bag and minimise the things you carry around with you. Don't forget to also have a look at your pockets and your wallet.
14. Revise your Habits
Remember the New Year's resolutions you had? You probably had big plans and set some goals for this year. How are you doing with that? Is everything going as you hoped? If not, take the time to revise things, it's ok if things didn't work out, you still have plenty of time to fix and iterate on them. Just keep going :)